Local Temporary Resources for COVID-19 Response
DBHDS (Department of Behavioral Health and Developmental Services) Crisis Counseling Program Warm Line
Virginia C.O.P.E.S. = Compassionate, Optimistic, Person-Centered, Empowering, Support
Virginia received a federal grant to establish a crisis counseling program to respond to the behavioral health impacts of COVID-19. There are two warm lines available at the number below that will support those struggling with trauma, grief and distress caused by COVID-19.
The warm line number and hours:
1-877-349-6428 Toll-Free
9 a.m. - 9 p.m. Monday - Friday
5-9 p.m. Saturday and Sunday
The Human Services Alliance of Greater Prince William has a coronavirus resource page that has informational updates, financial resources, family resources and a lot of other useful information.

Alliance Coronavirus Resource Page

Northern Virginia Family Service is offering a COVID-19 emergency assistance program to qualifying families. Please click the link below or call 571-748-2552.
Northern Virginia Family Service Emergency Assistance
Northern Virginia Family Service Asistencia de Emergencia
Comcast is offering 60 days of free internet service to qualifying families. Please click the link below to apply or call 1-855-846-8376 for English and 1-855-765-6995 for Spanish.
Child Care Resources (updates during COVID-19)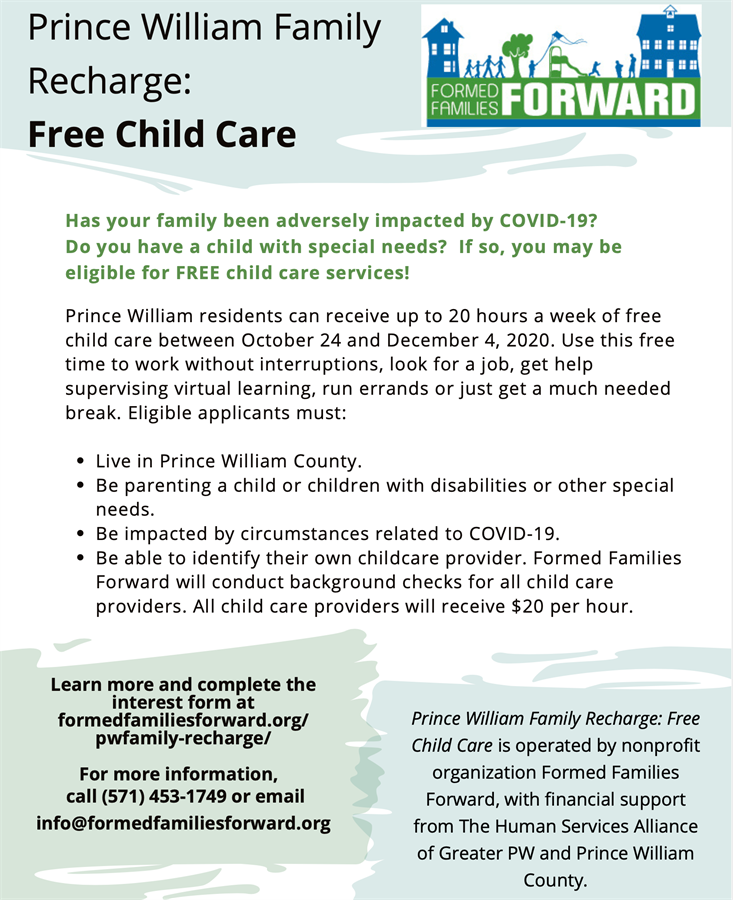 AlphaBest Scholarship Application

Head Start Child Care Information

Child Care Aware Virginia Resources
Food Resources
PWC Food Helpline 703-794-4668
Manassas Park Community Center, 7500 Willoughby Lane, Manassas, 703-335-8807


House of Mercy - 8170 Flannery Ct., Manassas, 703-659-1636


St. Mark United Methodist, Manassas- 703-368-5790


Bethany Food Pantry (All Saints Catholic Church)- 9300 Stonewall Rd. Manassas, 703-368-4500


Manassas Baptist Church, 8730 Sudley Rd., Manassas, 703-361-2146

Every night from 6:15 until 7:30, the gracious congregation at Dar Alnoor Islamic Community Center hand out free hot meals to everyone in the community in a drive-thru fashion. Address is: 5404 Hoadly Rd, Manassas, VA 20112


Medical Resources
Apply for Health Coverage Through Cover Virginia
INOVA Partnership for Healthier Communities
Greater Prince William Community Health Center
Offers services on a sliding fee scale
703-680-7950
9705 Liberia Ave. Suite # 201 Manassas, VA 20110
Click here for Coronavirus Preparedness Information
Mother of Mercy Free Medical Clinic
703-335-2779
9380 Forestwood Lane Suite B, Manassas VA 20110
Mother of Mercy Free Clinic Website
Mason and Partners (MAP) Clinics
703-993-5880
99 Tremont Street, Manassas, VA 20111
Click here for COVID-19 MAP Clinic Updates
Prince William Area Free Clinic
703-499-9034
Address: 13900 Church Hill Dr, Woodbridge, VA 22191
PWCS cares deeply about students' emotional well-being during their time away from school. If a student is in need of emotional support during this time, please feel free to send an email to StudentSupportServices@pwcs.edu. A school mental health or health professional will answer and offer virtual support to students to the best of their ability. This email is not to be used for emergency situations as it will not be monitored 24 hours a day. If a student is ever in an emergency situation, he/she is encouraged to call 911 or utilize one of the resources listed below:
Emergency Resources:
ACTS Helpline 703-368-4141
1-800-SUICIDE (24-hour hotline) 1-800-784-2433
Crisis Text Hotline (24-hour hotline) 741741
PWC Child Protective Services Hotline 703-792-4200
PWC Community Services Board (west) 703-792-7800 or (east) 703-792-4900

Please feel free to email me with any questions or concerns you may have!
Letetia Fender, LMSW
School Social Worker
fenderlm@pwcs.edu